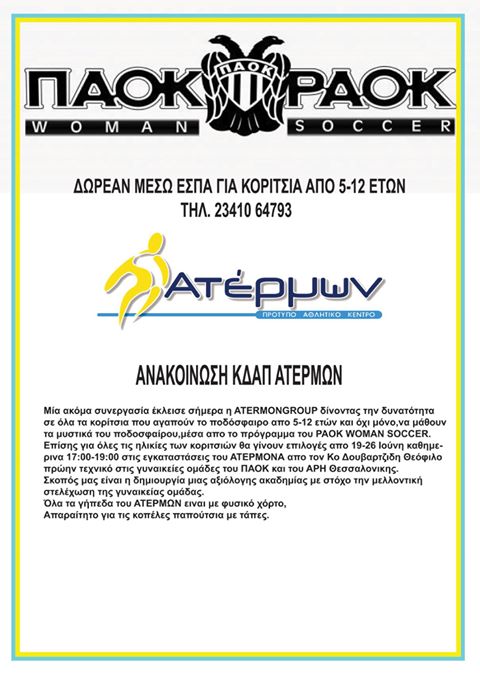 ---
New partnership between team of Atermongroup - Paok
It is free for two days until June 15, 2017 to register the girls in Women's Soccer Team'. They can participate in the soccer academies of the Atermon as they join the new program of NSRF 2017-2018.
Contact telephones: 23410 64793
ATERMONGROUP has made a new partnership today, June 12, 2017, allowing our little girlfriends to learn and train in the football sport. Athletes will be practiced under the best conditions on naturally-grown grounds and under the official PAOK WOMAN SOCCER program.
* During the period 19-26 June and hours 17:00-19:00 will take place the choices of the youth women athletes. The program concerns all girls' ages and will be carried out at the premises of the Atermon by Mr Douvardzidis Theophilos former technician to the PAOK and ARIS Thessalonikis women's team.
It is essential that the athletes have the days of evaluation of shoes with caps.
The PAOKWOMANSOCCER report reads: